Book Review – Hell or High Water – Julie Ann Walker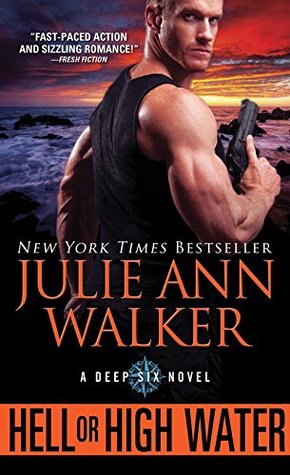 Title:   Hell or High Water
Author:   Julie Ann Walker 
Stars:   5 out of 5
Review:
CIA Agent Olivia Mortier is the one person Leo Anderson can't seem to stop thinking about and wonders if he will ever see her again. When she ends up on his island as he and his crew are looking for the legendary lost ship La Santa Christina things go from a search of gold to the search of weapons and terrorist.
I will start off with I love this book from first to very last page and I can't wait to read the next in the series. Julie Ann Walker hit it out of the ball park once again. The book is perfect amount of action that keeps the reader hooked and romance that will leave the reader wanting more.
The author introduces several characters the readers will get to know in other books but never once did the reader feel bogged down by the different characters. In fact Readers will be excited to see what happens to everyone you get to know in this book.
The book is well paced, the romance\Sex will keep readers blushing and the endless pop cultural reference will have readers laughing. Hell or High Water is a series I will look forward to reading with each new book.
I have even found myself rereading the novels because of how much I enjoyed it the first time. I still find pop cultural reference I didn't pick up on the first pass.
The story was told from multiple POVs (Leo, Bran, Mason, Olivia and the CIA mole) however never once does the reader feel lost and the pacing never once slows down.
Hell or High Water is roller coaster ride that is perfect from the beginning to the very end.
Advance Copy sent from Netgalley